Chaparral is California's most extensive, native plant community, dominating foothills and mountain slopes throughout most of the state. The
chaparral biome
provides the deep green backdrop for most of California's coastal urban centers, the soft hues surrounding the gold country along the western slopes of the Sierra, and a valuable wilderness retreat for the state's growing population. Take a drive into the hills surrounding nearly every southern California metropolitan area and you are immediately immersed in chaparral.
What Chaparral isn't:
It's not a plant.
It's not a herb sold in health food stores (the chaparral sold in bottles is actually crushed leaves from the creosote bush, a desert shrub).
It's not a 1960's television show (the
High Chaparral
ran from 1967 - 1971).
Chaparral doesn't "need" to burn, and
it hasn't become overgrown
due to past fire suppression. It's not found outside North America (
see world map below
).
Watch this video by our friend
Jack 4 the Planet
for an interesting discussion of all things chaparral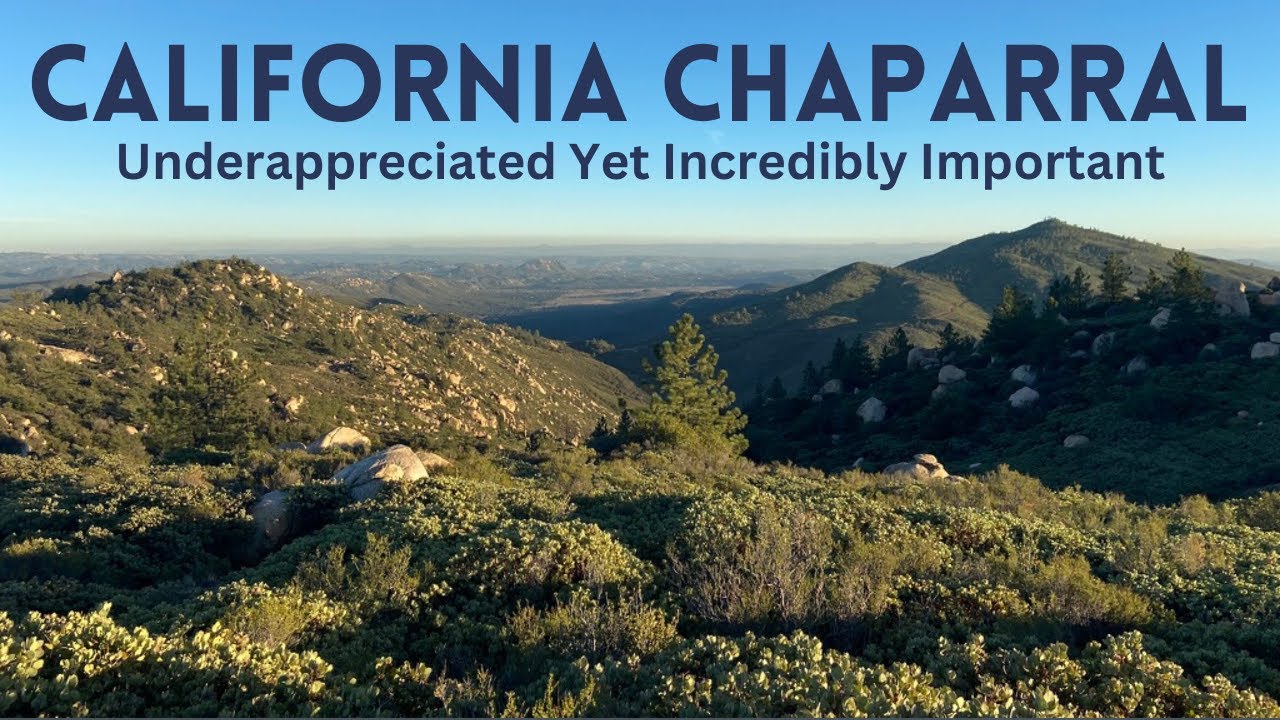 Where's the Chaparral? It's in every county in California, as shown in blue and red on map.
Chaparral Area in California by County (in acres)
San Diego 1,003,441
Los Angeles 553,789
Riverside 499,160
Santa Barbara 440,645
San Luis Obispo 417,718
Monterey 369,345
Ventura 326,447
San Bernardino 276,010
San Benito 246,623
Santa Clara 188,427
Orange 111,550
Marin 37,566
San Mateo 36,152
Santa Cruz 32,328
Acres of chaparral from Fried, J.S., C.L. Bosinger, and D. Beardsley. 2004. Chaparral in Southern and Central Coastal California in the Mid-1990's.
Map from Parker, V.T. 2020. Chaparral of California. In Goldstein, M.I, DellaSala, D.A., (eds.), Encyclopedia of the World's Biomes. Elsevier. Addendum: there's a small patch of chaparral in the southwestern corner of Imperial County that barely shows, but it's there!
Chaparral is a semi-arid, shrub dominated association of sclerophyllous (hard-leaved), woody shrubs shaped by a Mediterranean-type climate (summer drought, mild, wet winters), and infrequent, high-intensity fires (with natural intervals between fires being 30 to 150 years or more). Sclerophyllous is a term coined by German botanist, Andreas F. W. Schimper in 1898. Referring to Mediterranean climatic regions (there are five*) in his classic 844 page Plant Geography Upon a Physiological Basis, he said, "The mild temperate districts with winter-rain and prolonged summer-drought are the home of evergreen xerophilous (dry-loving) woody plants, which, owing to the stiffness of their thick, leathery leaves, may be termed sclerophyllous woody plants."
Sclerophyllous leaves are advantageous in a semi-arid climate because they reduce evaporation thorough a variety of traits including waxy coatings, thicker cell layers, and recessed stomata (the pores in leaves permitting evaporation and the exchange of oxygen and carbon dioxide).
Chaparral is primarily a California phenomenon
(extends a bit into southern Oregon, notably in the Rogue River Valley, and sparsely south into Baja California). There are also some wonderful chaparral "islands" at higher elevations in parts of Arizona (such as in the Catalina Mountains above Tucson). A similar shrubland without the Mediterranean climate, called Petran chaparral, is found in the central Rocky Mountains and Northeastern Mexico. Chaparral-like shrublands that have several shrubs in common with California chaparral (i.e., manzanita and ceanothus species) are located in west Texas and along the eastern sides of the mountains in central Mexico.
Although the largest and most pristine stands of chaparral occur in California between 500 to 4,500 feet in elevation, beautiful stands also exist along the coast. Red shanks chaparral can found at 7,000 feet in the San Jacinto Mountains in Riverside County. If there is one defining characteristic of nearly all chaparral, it is the presence of chamise (
Adenostoma fasciculatum
), the ecosystem's most pervasive shrub.
We have identified the primary chaparral types found in California, based on dominant shrub species, geography, or soil type in which it occurs. Enjoy exploring them on our
Chaparral Types page
.
TEN REASONS CHAPARRAL IS SO AWESOME
1. Birthplace of Western Civilization 2. Vino Veritas and More 3. The Greatest Bear of Recorded Time 4. Sexual Diversity 5. Breathtaking Biodiversity For additional details and the next five reasons, please visit our online journal
Chaparral Wisdom
.
There are five Mediterranean climate regions on earth that have similar native shrublands, but each has its own, unique characteristics and species mix.
In California, the characteristic native shrubland is called the
chaparral;
in Central Chile, the
matorral;
in South Africa, the
fynbos;
in southwestern Australia has two: the
kwongan healthlands
, and the Eucalyptus shrub-dominated community the
mallee.
The Mediterranean Basin has the
maquis;
and a less dense version on poor, limestone soils, the
garigue
. Since the overall appearance of Mediterranean shrublands is similar in all five locations, a visit to Spain, France, or central Chile can feel like home to Californians.